Small fish feed making machine price,fish feed pelleting machine
Fish feed making machine is the main pelleting machine that directly pressed the crushed material into fish feed pellet,like corn, soybean meal, rice husk,beans cake,fish meal,fish oil,etc.It is widely used in small and large scale aquaculture, livestock farms, poultry farms, and feed processing plant. As we known to all, it can be divided into two types, the floating type fish feed pelleting machine and sinking type fish feed pelleting machine. The most popular fish feed is floating type feed pellet on the market.
Content
Why do people like floating type fish feed pellet?
For fish is more apt to receive a totally mixed nutrition and avoiding the segregation of feed ingredients during process of mixing, people use pelleting process to increase gelatinization and digestibility. The artificial fish feed pellet is important for the improvement of fisheries and achieving maximum yields from resources of fresh water. Fish feed pelleting refers to the process of feeding, extruding and molding feed ingredients into the different size and shape of pellets under the action of the heat, moisture and pressure, to replace the dusty, unpalatable and water pollution feed material. Pelleted and extruded feed produced by fish feed pellet mill have become the mainstream feed for most fish because of its high digestibility, abundant nutrition and floating properties.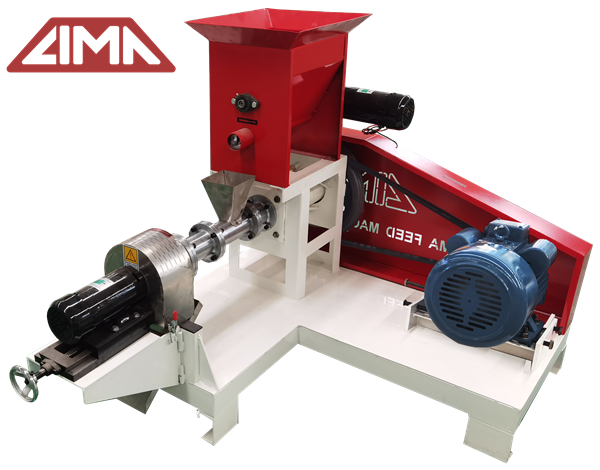 Advantages of Fish Feed Making Machine
1.This fish feed pelleting machine can make various grain flour into fish feed pellets with rich nutrition and easy digestion. The end pellet product has fine textures, which has a unique taste, it is nutrient-rich, and is of various shapes. It's popular with fish farming and aqua breeders.
2.It's not only making feed pellets for aquatic animals like catfish, tilapia, shrimps, gold-fish, tropical fish, etc, but also suitable for making feed pellets for dogs, cats, birds, foxes, etc.
3.Our this equipment is perfect for the production of pellets from grains, protein and molasses for commercial purposes, fish feed pellets with homogenous nutritional value after the uniform mixture and extrusion process, increasing gelatinization and digestibility of feed pellet so that each fish can absorb well-balanced diet, also saving feed pellets and lowering the fish farming cost.
4.The most important feature of the fish feed pellet is durability, crushing strength and water-resistance, feed pellets produced by our fish feed pelleting machine are of smooth surface, floating more than 20 hours.
5.Feed pellets is easy for storage and transport after pelleting, it will be less influenced by moisture, oxidation and other external factors.
6.Extruded pellets would be processed under the high temperature up to 70-100 Celsius, high temperature extruding process can kill pathogenic bacteria, parasite and pathogenic microorganisms, it will reduce fish disease obviously.
Structure of fish feed pelleting machine
Fish feed pellet contributes to a greater percentage of the cost of production of fish farming. For the increment in productivity and profit, farmers are advised to produce their own fish feed by small fish feed making machine, which can reduce their production cost. Small fish feed making machine consists of feed hopper, extruding barrel, heating plate ,mold, and cutting blade, etc. Our engineer design this machine using engineering principles, at same time consider to cost, easy of operation, serviceability, durability, and performance.The heating plate was attached to the barrel surface to ensure adequate heating of the feed as they travel through the barrel. The produced pellets size by the machine was in the range of 0.9~15 mm diameter, which is suitable for most fish and pet feeding.The power of this machine is single phase electric motor or 12 hp diesel engine.
Come to see the dry type fish feed pellet machine in Lima.
More floating fish feed Machine