Large capacity fish feed production plant,fish feed mill plant for sale
Fish feed production plant is newly developed to meet the demand of intensive production of fish feed pellets,it can produce various kinds of pellets for different varieties of fishes including Tilapia pellets, Catfish pellets, CatCarp pellet, Trout pellets, Shrimp pellets, etc.The pellet can have rich nutrients,different shapes, unique flavor, and fine texture to meet the different eating habit of aqua fish.
This production line with many specifications can produce floating fish feed, sinking fish feed, pet feed, etc. Full automation control and high production efficiency, it is the best choice for medium and big sized feed mills and breeding farms.Our fish feed production plant adopted extrusion technology.It is a way of making food and feeds often applied by most companies that involve fish and pet food.
Content
Raw Material Selection
The most important of raw materials is nutritional value, but the processing characteristics of aquatic feed raw materials should also be an important factor to be concerned about.
The feed raw materials are not only manifested by larger output and less energy consumption in crushing, mixing or pelleting, the more important point is that the final produced fish feed pellets must have good stability in water for a long time. Starch is an important component in aquatic feed pellet, normally the content of starch can be 5% to 60%. For sinking fish feed ,the starch content can be 10% to 15%.For floating fish feed is not less than 20%.Carbohydrates has play a important role in fish feed pellet production,it act as suspending agents,adhesives, and emulsifiers. It is an important determinant of many structures and special sensory properties of extruded feed pellet.
The feed pellets materials include animal protein and plant protein. Plant protein comes from corn,wheat, rice, soybean, peanut cake powder, etc.
Animal protein is from bone meal, fish meal, shrimp meal, crab meal, fish oil and so on.
The user can add other ingredient according to requirements and eating habits of fish.
Flow Chart of Fish Feed Production Plant
Feed Hammer Mill→Feed Mixer Machine→Fish Feed Extruder→Feed Pellet Dryer→Pellet Flavour Machine→Fish Feed Pellet Cooler Machine→Automatic Weighing Packaging Machine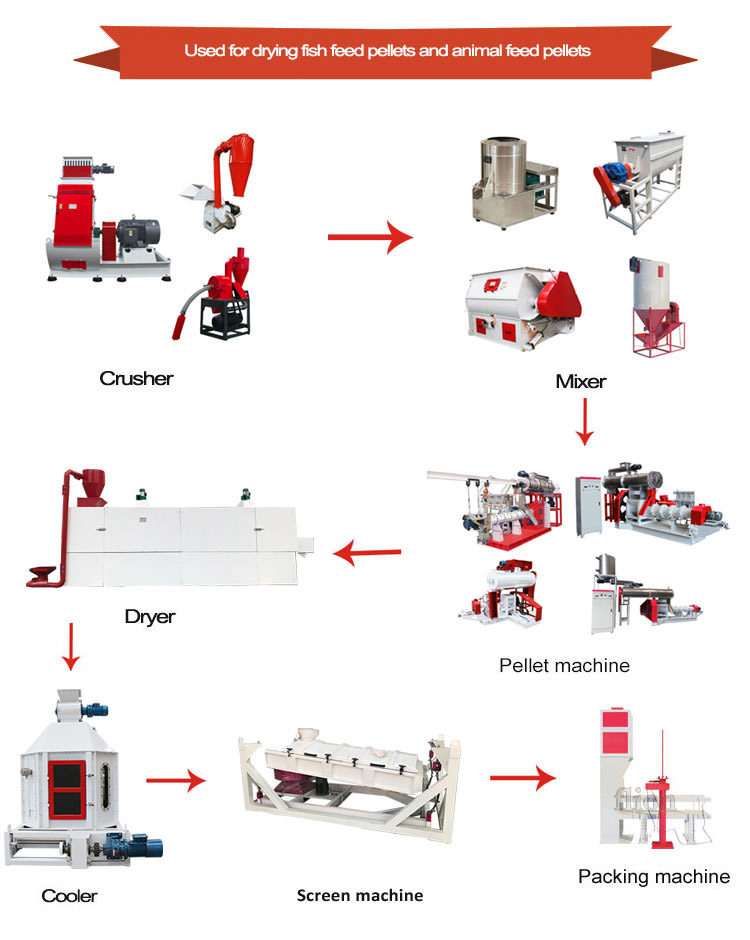 Feed Hammer Mill
For Raw Material Grinding. Feed hammer mill is used to crush raw materials. We offer different capacity of feed mills to meet your different requirements, small hammer mill crusher for small and medium feed extrusion plants, large series feed hammer mills for large and medium aquafeed plant. Micro crusher machine is mainly used for fine grinding of special aquatic feed.
¡ô Feed Mixer Machine¡úFor Raw Material MixingFeed mixer machine is widely used for mixing grain powder in fish feed pellet line. Mixing is one of the most important processes in aquatic feed production plant. the physical properties of feed ingredients are varied, and the problem of mixing and separation coexist. When adding material to the feed mixer, the smaller ingredient should be added later, such as vitamins, minerals and drug premixture. All dry ingredients must be mixed well before adding oil or liquid. Our mixer design is based on a U-type tank with dual shafts and paddles extending the length of the tank for homogeneous mixing of different ingredients in a shortest time (CV< 5%) .
Fish Feed Pellet Extruder
For Fish Feed Pellet Extruding. We have match wet type fish feed pellet machine for this fish feed mill plant. It has matched with conditioner to provide steam for raw materials ,which can improve the digestibility and water resistance of feed, kill pathogenic bacteria, the user need prepare boiler in local.
Feed Pellet Dryer
For Fish Feed Pellet Drying. Extruded fish feed pellet moisture content is around 15~20%, and it's not suitable for storage and sell on the market. The pellet dryer machine can reduce moisture to 10% which can be storage more than 1 year. It has advanced loading and laying-off material device, it's an automatic dryer machine with multiple net layers design (3, 5, 7 layers for choice). The belt running speed can be controlled to adjust the drying time.
Pellet Flavour Machine
For Fish Feed Pellet Oil Spraying and Flavour. The edible oil and heat-sensitive components are usually sprayed by drum-type sprayer in fish or aquatic feed production. When feed pellets fall into machine, the vaporous liquid material is sprayed to them,so feed pellets can fully contact with droplets in the air. This machine matched unique spray nozzle, it can make the liquid atomized as much as possible, to distribution of liquid in the pellet surface uniformly.
Feed Pellets Cooler Machine
For Fish Feed Pellet Cooling. The fish feed pellets are conveyed to counter-flow cooler after spraying oil. The pellet cooler has many advantages in fish feed pellets processing, such as high automation, small air volume, low power consumption and small floor area.
Feed Pellet Packing Machine
For Fish Feed Pellet Packing. The automatic packing machine can pack fish feed pellet to 5~50kg/bag, has accurate weighing and reliable running, simple structure. It can weigh and package feed pellets quickly. The system is suitable for the particle material.
Do you interest in the poultry feed production line?
More fish feed production line