600-1000 kg/h hot sale poultry animal feed mill in Philippines
Voltage: 220v/380v
Weight: 20000 kg
Brand Name: LIMA
Pellet diameter: 2-10mm
Dimension(L*W*H): 350*220*150mm
Content
Hammer mill & Cyclone
Multifunctional straw crusher produces 200kg-2000kg/h, which can meet the daily production needs. The core part — the hammer is scientifically designed with two impact parts, so when one part wears out, you can roll over and use the other part.Rough grinding and fine grinding can be achieved by adjusting the gap between the hammer and the screen.Change the size of the screen and the variable speed inverter control so that the same crusher can process various raw materials.Equipped with a blower, the mesh material can be collected directly and transported to the next step for further processing.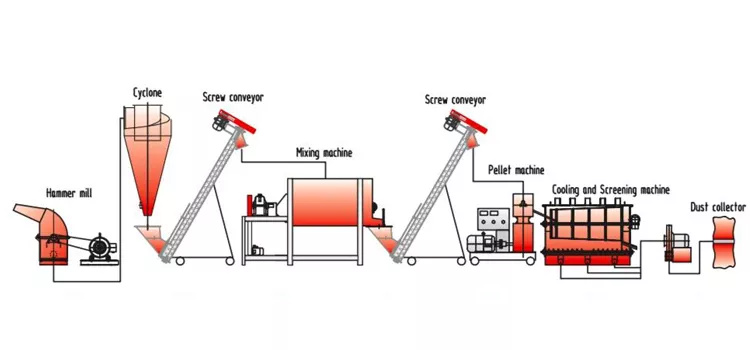 Mixing machine
Unique design system ensures full airflow balance of feed, suitable for premix, poultry feed, aquatic feed, additives, chemical and pharmaceutical industries.Different types of raw materials are added to the mixer in batches according to different animal formula requirements. Widely used for mixing animal feed and fertilizer powder, granule etc.,various liquid can be added. Mixing time per batch is just 3-6minutes, Now it is widely used in animal feed industry, fertilizer industry, aquatic product breeding, chemical industry, aquatic product breeding, medicine and so on.
Pellet machine
Pellet machine is the key equipment of production the feed pellet, Widely used in feed factory , farm and other.
1.Flat Die Pellet Mill Mainly suitable for medium-and small-scale farming professional households and other processing of various livestock and poultry and aquatic pellet feed can reduce the cost of aquaculture. So go to see the flat die chicken feed pellet machine in LIMA.
2.Feed machine can be used for raising rabbits, chickens, ducks, geese, fish, pigs, cattle, sheep, aquatic products and so on.
Cooling & screening machine
The pellets from the granulator at a temperature of 70 ° C to 90 ° C to a temperature slightly above room temperature of 3 ° C to 5 ° C, and can be reduced to safe moisture (≤ 12.5%), which is convenient for pellets. Transportation, storage and storage.The screening machine can  screened out complete granules, and unqualified granular products will be separated for secondary granulation, effectively reducing waste.
More interest to see the poultry feed production line.
More chicken feed production line